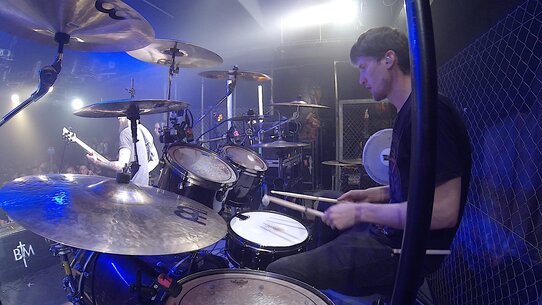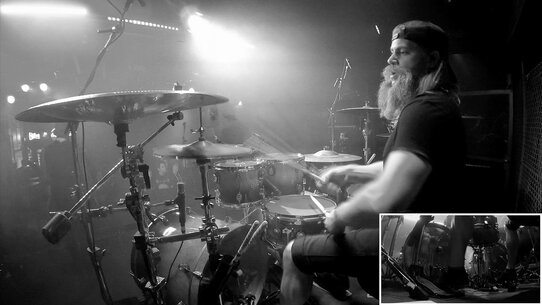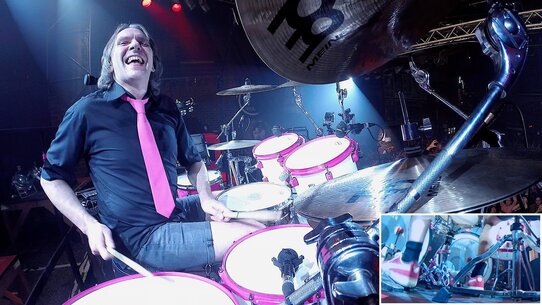 Our drum cams provide you with exclusive video footage that will never be forgotten!
Everybody knows the feeling of admiring their idol up close with an exquisite insight of all perspectives behind toms, stands and cymbals from behind the stage. A drum cam gives you all the groove of the very moment and a special glimpse of all patterns, beats and drum fills.
We were able to excite some well-known drummers with our professional cam work in the last couple of years, e.g. Jocke Wallgren of Amon Amarth, Mario Duplantier of Gojira or Joe Rickard of In Flames.
Our drum cam videos are recorded live on site – no matter what location your show is played in. We mount a couple of cameras on your drum set before the show, thereby paying attention to get the perfect picture section with you sitting at your instrument. Besides video there's also live audio included in our promotion package: You may choose between one or up to a dozen songs. Ideally, we get the audio directly from the mixing board to adjust it with our recorded audio to get the perfect drum sound.
We got you an exclusive all-in package with audio and video cut!
Interested in a non-binding offer? Contact us.